Youth Still Pushing for Food Systems on COP27 Agenda
In the lead-up to COP26, we knew that we needed to advocate for the inclusion of food in climate agendas. Our current food system is responsible for 30% of human-made greenhouse gas emissions and the primary driver of biodiversity loss, with agriculture threatening 86% of species, now on the brink of extinction. I and twelve Act4Food Act4Change youth leaders alongside the Food Foundation set out to Scotland with these goals in mind; to raise awareness, make some noise, and be heard.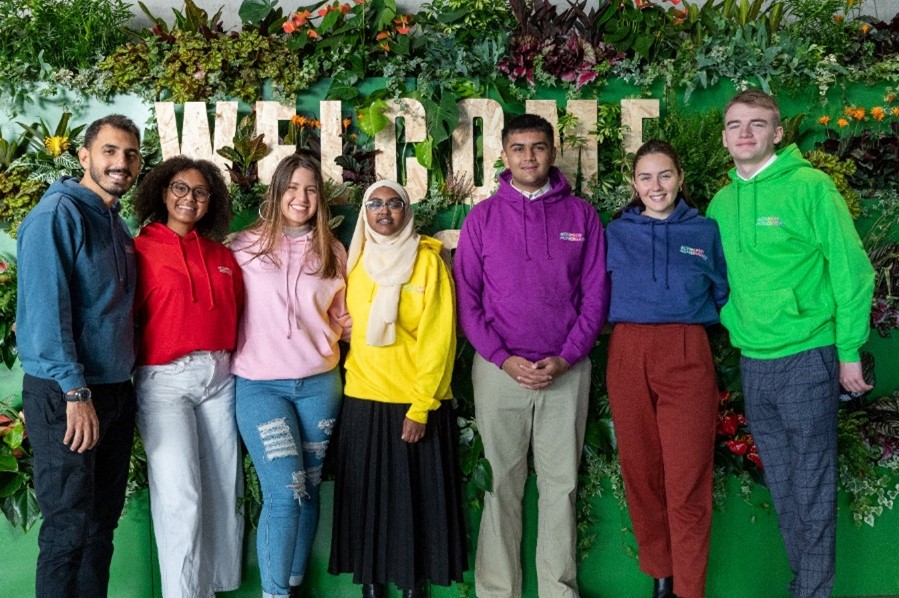 Upon arriving in Glasgow, I was greeted by fellow youth leaders that I had only seen as faces on screens. This was the beginning of our busy and emotional weeks at COP26. Act4Food Act4Change participated in climate marches, panel discussions, dinners and hosted three events. We were committed and ready to push for food on the climate agenda.
At COP26, my main objective was to advocate for the inclusion of food, loss, damage, transparency, accountability, human rights, health, and equity. The devastating impacts of our food system should not be seen in isolation with the effects of the climate emergency/crisis.

Yumna hussen, act4food act4change youth leader from the uk
How were the COP caterers going to encourage sustainable consumption throughout the 2-week long activities at the venue? I met Kevin Watson, business manager at Levy's, and coordinator of catering at COP to get answers to this question. He presented interesting statistics about the food we ate:
40%, plant based, 60% overall vegetarian, another 40% coming from a meat protein, or an animal-based protein, so including fish. We have made it accessible to everyone and covered off everyone's either accessible needs or cultural needs, I think we have hit those targets.

Kevin Watson Business Manager, Levy's
From this inside look into the kitchen, I learned a lot more about the large-scale logistics needed to have sustainable conference catering. Intrigued and hungry I headed to the cafeteria to have some Vegan Haggis!
That afternoon Act4Food Act4Change hosted an event in the WWF panda hub, inside the Blue Zone, an area for world leaders, delegates and observers. We heard a spirited debate between the CEO of Impossible Foods, Patrick Brown, and Head of Sustainability for Nestle UK & Ireland, Emma Keller concerning plant-based diets and their role in our future food system. Our youth leaders also asked critical questions to policymakers; Dr. David Nabarro, Dr. Agnes Kalibata, and Gerda Verburg. Although many amazing comments, mechanisms, and words of hope were said, Youth Leader Rayan Kassem was still pressing for more action.
It sounds to me a little passive in terms of [the Food Systems Summit has done what it must do] and now we're working in silos again…this is exactly what us young people here are concerned about… we cannot work in silos anymore

Rayan kassem, act4food act4change youth leader from lebanon
This event highlighted many positive ideas and advocated for food to be a focus. However, it is still clear we have a long way to go to ensure these ideas are turned into actionable change and that stakeholders are working collectively to address gaps.
Later that week we focused on building awareness about food/climate issues while working to harness the joint efforts of youth in this journey. We hosted two more events Calling all young people to be agents of change in food systems transformation. These sessions fostered collective learning and discussed the critical role that the food system plays in shaping our planetary and individual health. We heard many inspiring words from our global Youth Leaders who discussed their journeys into activism and ability to act:
I knew I had power and I had to put action to that power…I realized that there are people around me facing food poverty and the impacts of the climate crisis. I knew I had to do something about it.

Ryan McShane
Despite these engagements, we as accredited observers were not allowed in the decision-making rooms or to hear how these issues impacting us were going to be solved. Youth leader Bernis Cunningham hit the nail in the head highlighting the barriers we faced.
We came here with all the hope that change will be made. And the strength of the Paris Agreement will be built. But what we're seeing is a lack of transparency. And they make decisions in secret rooms, all the big groups in COP26 like Friday for the future, like the NGO indigenous group, like the NGOs from Latin America, and groups like Act4Food Act4Change with UK ambassadors that are on the ground are saying that, that they're not included.

Bernis cunningham, act4food act4change youth leader from nicaragua
We came to COP26 wanting to build awareness and to educate young people and global citizens on the links between food and climate. I was pleasantly surprised to see many sessions and discussions from others talking about these issues. There were youth groups, ally organizations, and businesses all advocating for sustainable food systems transformation. Food was at COP26, but it was missing from the negotiations and is not included in the ever so important NDCs (Nationally Determined Contributions) that world leaders must choose. So, what is next, how do we ensure that decision making rooms are open and that food is in the COP27 negotiations? At Act4Food Act4Change we will continue to raise our voice, to advocate and put pressure on government and businesses to be transparent and show us strong targets for action regarding sustainable practices for human and planetary health.
If you'd like to hear more about our journey and listen to youth leaders explain why it's so important that food and farming is on the climate agenda check out the Right2Food Podcast COP26: the youth view. For future Act4Food Act4Change event participation stay connected at actions4food.org and on our social media channels!